The FinCap is design for a nominal 1.5" (1.5"ID/1.9"OD or 40mm screed pipe. Black iron or standard galvanized pipe is readily available in this dimension and is commonly used for a screed pipe.
A 1.25"ID or 2"OD screed pipe may be used however, the string line or laser needs to be adjusted to accommodate the different pipe size when using the MAKO Driver for setup. We recommend always testing the system when using a different pipe size.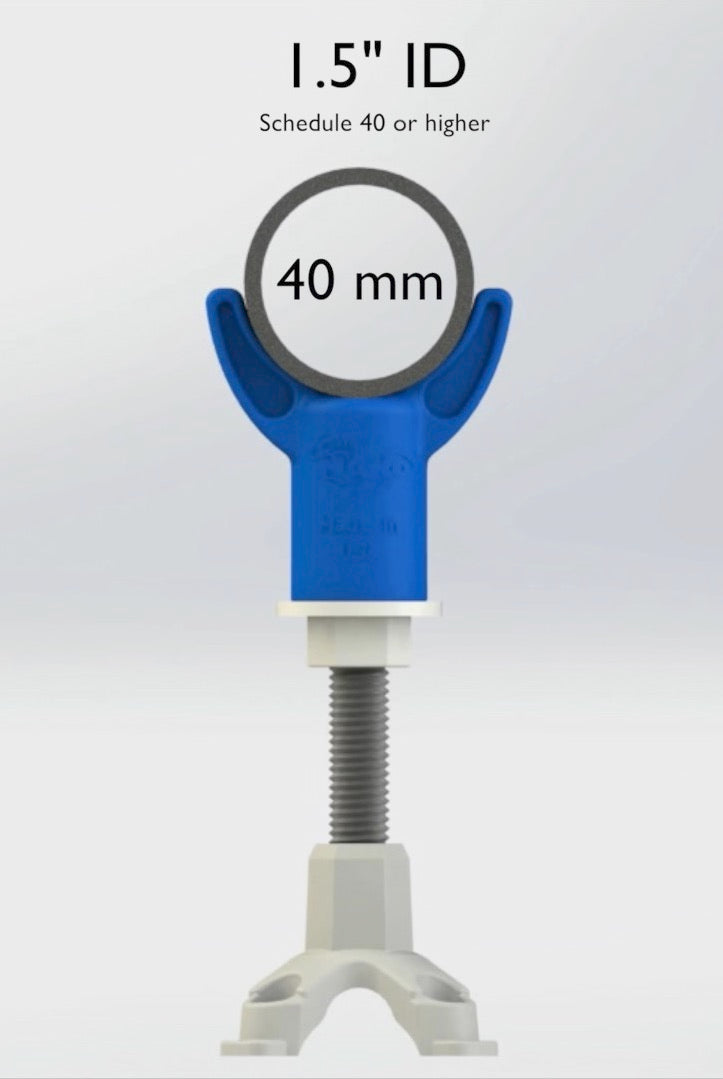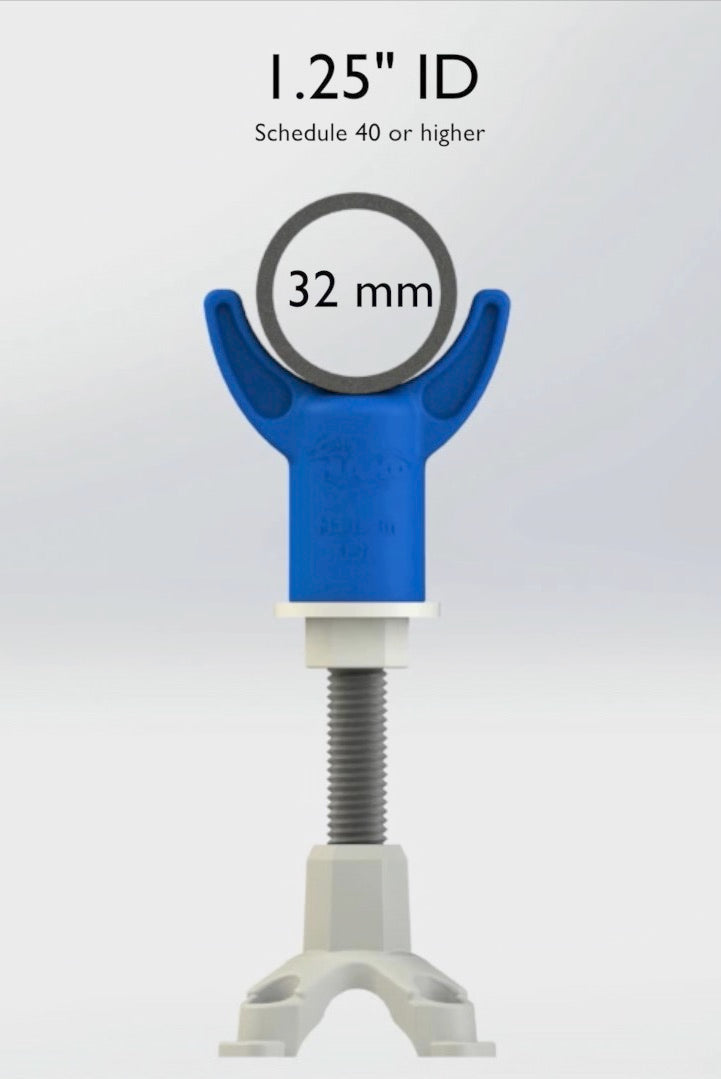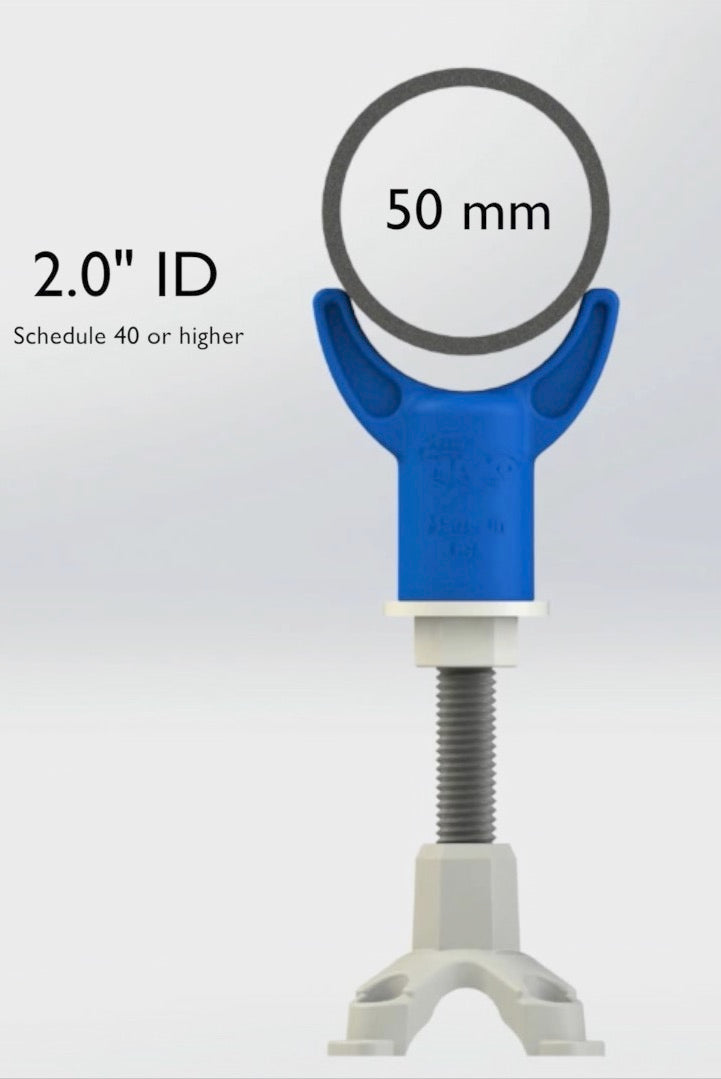 JAWS Large (green) uses a 2" metal or magnesium screed rail.
JAWS Small (blue) uses a 1-1/4" wood 2x4, or a metal or magnesium screed rail.
JAWS RailFin (orange) uses a 0.25" flat rolled metal rail. Height and length vary.
This is where the versatility of the MAKO screed support systems shine! Due to the patented universal design, the FinCap, JAWS Large, JAWS Small and JAWS RailFin fits any mounting structure from 3/8" (10mm) to 5/8" (16mm). A 1/2" (13mm) mounting structure is ideal. Use a dowel, stake, rebar, PVC, conduit, or threaded rod.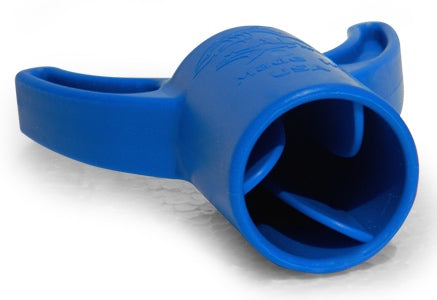 The MAKO Driver is designed to work with the FinCap but can be used with the JAWS Large and Small chairs. The Driver does not work with the JAWS RailFin.
The FinStand accepts a 1/2" x 13 threaded rod. Using a threaded rods provides up to 1- 3/4" of vertical adjustment. Nylon threaded rod can easily be cut to size on the job site. For slab with thickness >8" we recommend using a steel threaded rod. The following list the required length of rod for the corresponding slab depth. (INSERT: slab depth chart A+)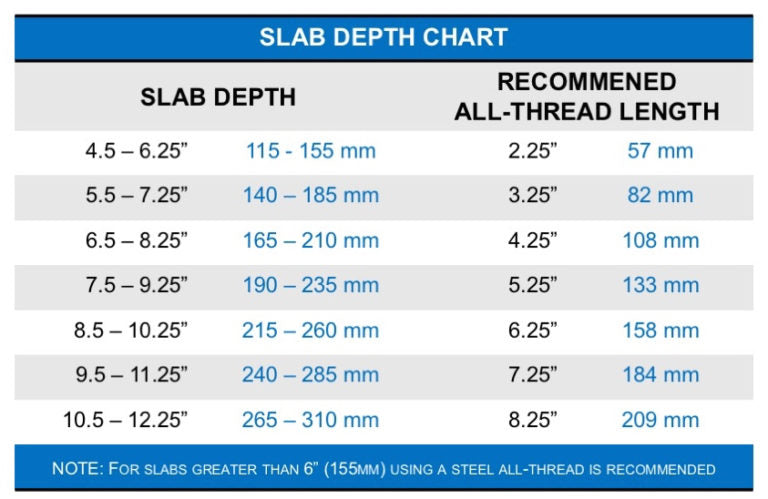 One bag of screed chairs (100 pieces) will be enough for 3,000 square feet (275 square meters)
Spacing between the MAKO Screed supports will vary due to the soil conditions, weight of the screed used, and your chosen placement method. Depending on tolerance needs, please the screed chairs closer together if using a heavy power screed or further apart when hand striking or using a lighter weight screed. A good rule of thumb when using a lightweight screed system would be to set them approximately every 3 feet (1 meter).
Varying soil conditions are not a problem. The is another area where MAKO screed support systems shine. Because you are not limited in our choice of mounting structures simply choose the one that best fit the conditions and your preferred practices. Depending on hard or soft soils, then length of the structure can be readily adjusted. Mounting structures can be short for hard conditions or longer for soft/looser conditions.
This depends on the grade and soil conditions, then chosen method of placement and the spacing of screed supports. However, a typical mounting structure may normally e around 12" to 18". In poor soil conditions, or when using a heavier screed, stake length should be increased until a solid base can be reached. Always test the soil conditions prior to pouring.
Absolutely! The FinCap, JAWS, FinStand, Base Plate and other hardware are stay-in- place forms and are left in the slab without adverse effects. The products are made from medical grade polypropylene which is made to withstand extreme conditions.
The MAKO FinStand and Base Plate 4.5 were designed specifically for use with vapor barriers. Depending on the vapor barrier used, different adhesives are available to secure the FinStand and Base Plate to the vapor surface. For penetrations, the system would be viewed like any other pipe penetration occurring through the slab on grade. Supports could be used without violating the vapor retarder as suggested in the guidelines in ASTM E1 643-09 and ACI 302.2R-06. The supports could also be integrated with vapor retarders that meet ASTM E 1745-09 for sprayed on and/or mastics.
University testing provide the FinCap + FinStand – with or without the Base Plate – using a 1/2" nylon all-thread will hold up to 800 lbs (356 kg) of load for each individual stand. A 1/2" metal all-thread will withstand up to 1,000 lbs (455 kg) of load.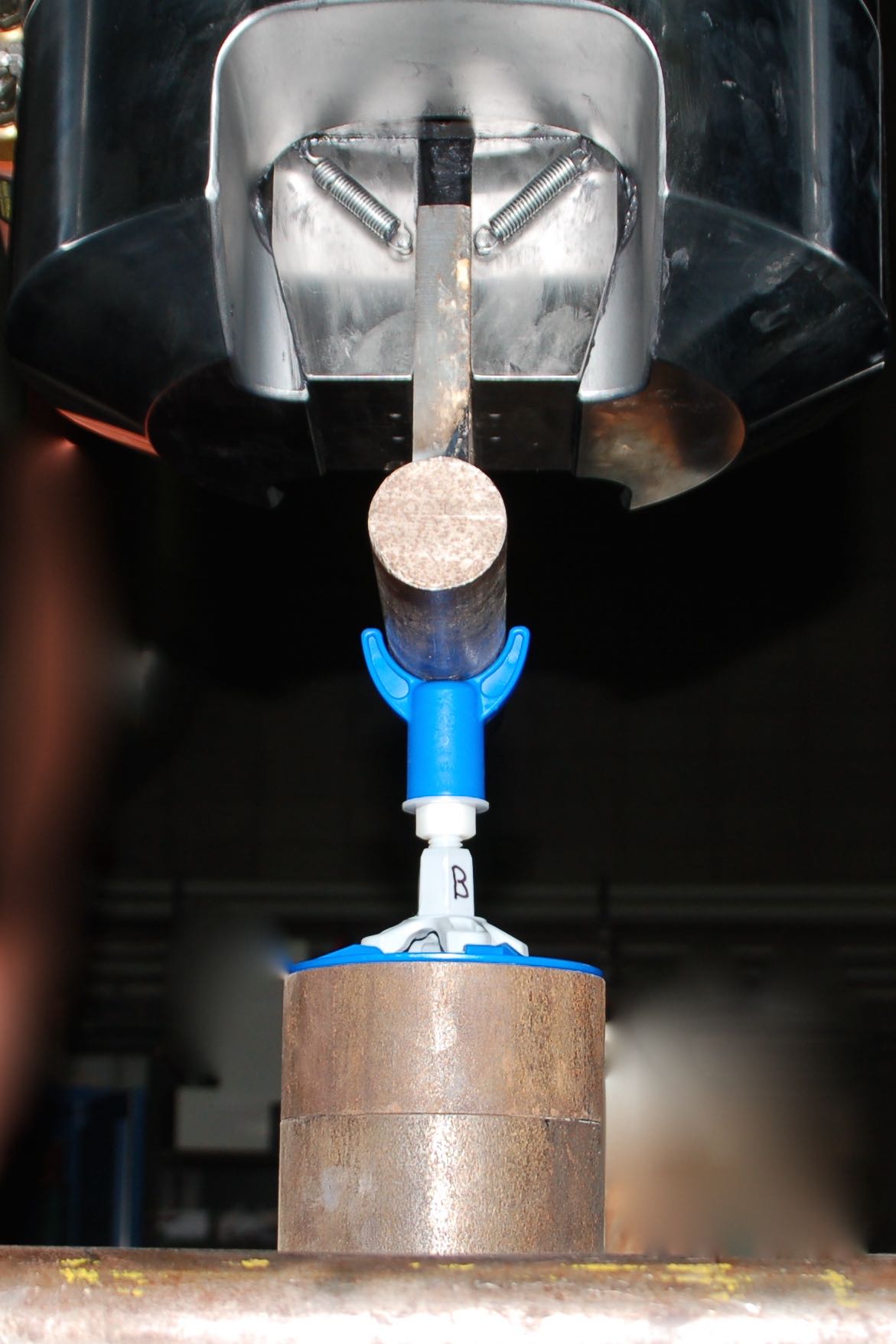 The MAKO systems can be used for any application: slab-on-grade, elevated slabs, roads, bridges, finish grading, irregular slabs, embankments, super thick floors, etc. Please call us to discuss other ways that the MAKO system can match your application needs, increase efficiency, and increase your profits.
The beauty of the MAKO Screed Support Systems is it can used with any type of screed: roller, hand, vibrating, truss, laser or anything else you use to place your concrete. The MAKO screed supports will hold up to 800 lbs (356 kg) of load whether using on grade or elevated decks. If using a steel a—thread, the load per support location increases to 1,000 lbs. (455 kg)
We currently ship MAKO products to 10 countries. Please email sales@makoproducts.com to find the nearest international distributor. We will be sure to help you find the products you need.
ACI 117 is the industry standard for specification and measurement of concrete floor flatness (FF) and floor levelness (FL) commonly referred to as F-numbers. The F-numbers identify and control floor characteristics which are critical to the floor's usefulness. A higher F-number always denotes a better floor.
Floor Flatness (FF) refers to the bumpiness of the floor while Floor Levelness (FL) refers to the tile or pitch of the slab.
ACI 117 provides surface classification which provides consistency and industry standards. Levelness is important because it affects shelf placement design, drainage and heavy equipment specifications. Flatness is important because it affect flooring installation, ride quality, drainage, and safety in floors.
As the need for superflat floors continues to rise, contractors can count on. MAKO to deliver a cost-effective and accurate solution for every job. With MAKO Screed Support Systems, finishers can rest assured the established elevation of concrete has been maintained and higher FF/FL numbers can be achieved in a shorter amount of time providing a superior slab.